Discrete Gyrator EQ


VSE-2 for Tracking,

Mixing and Mastering

GYRATOR FOR ALL!
The VSE-2 is another BIG IMPACT DESIGN and is setting a new benchmark for Tracking, Mix-Bus and Mastering applications. Unlike other EQs on the market the VSE-2 is equipped with six discrete gyrators and lots of matchless detailed features. This unique set-up makes the sound of the golden decade of analog recording equipment available in today's studio environment.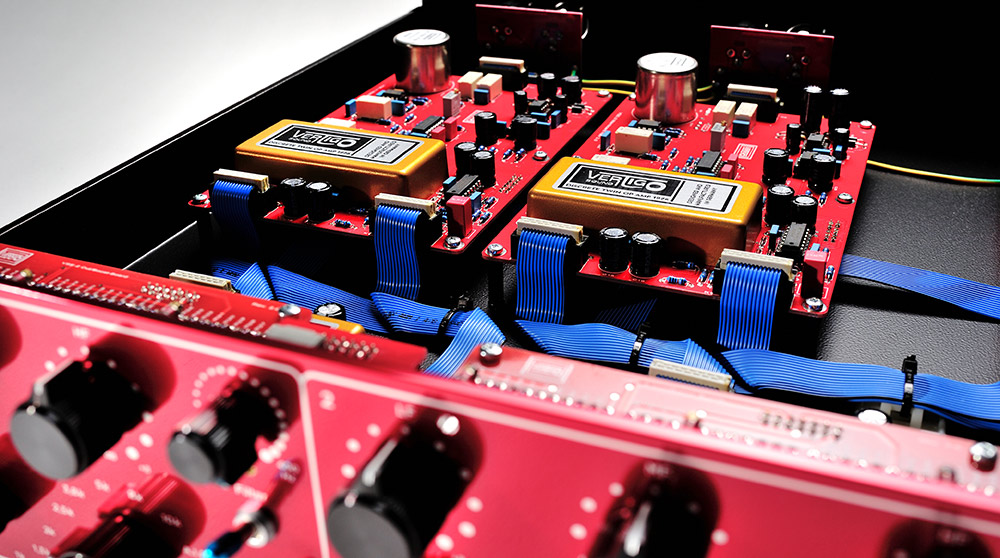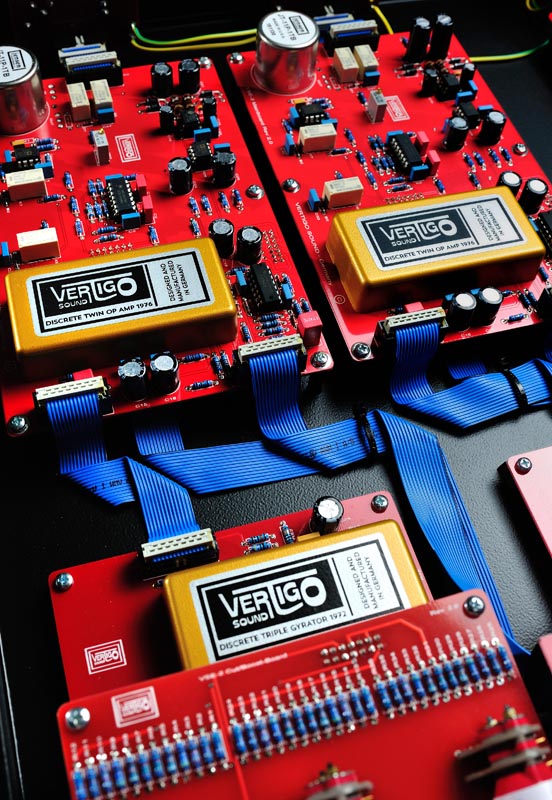 VSE-2 Unique Features
Discrete gyrator based Equalizer concept
Discrete operational Cut and Boost amplifier +-8db
18 selectable frequencies on each channel
Dual Mono Design
Hi Pass Filter 10Hz-400Hz with Bypass
Transformer balanced Input
All EQ parameters controlled by rotary switches
Unique A.I.R Mode (Enhancement of the auditory threshold)
Smooth and Punchy
Super Low Noise (-98dBu)
Cut & Boost steps +-: 1dB, 2dB, 3,5dB, 5,5dB, 8dB
Technical Specifications
Cinemag Balanced In. That 1646 Balanced Out
Dynamic Range: 122 dB
Frequency response: 10 Hz … 80 kHz (– 3dB)
Max. Output Level: + 23dBu / 600 Ohm balanced floating
Signal to Noise Ratio at + 6dBu = 105dB (20 … 20 kHz, unweighted, RMS)
Noise: – 99dBu (20 Hz – 22 kHz – unweighted, RMS) @ 0dB Unity Gain
Crosstalk between channels: > 100dB
Power consumption: max 10 Watts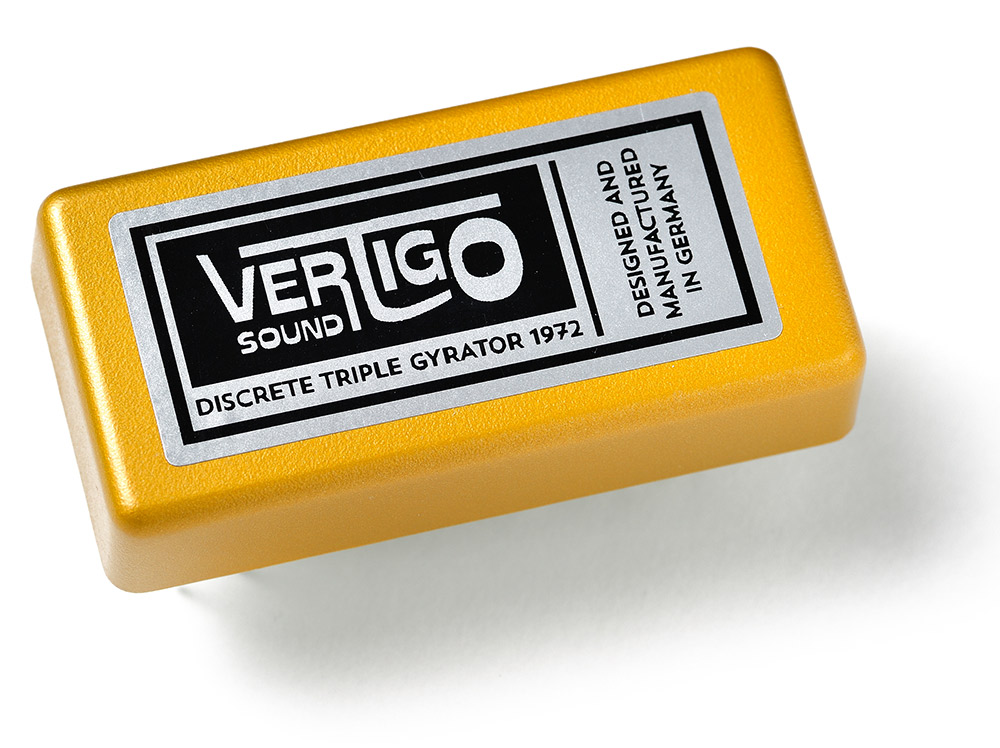 Originally proposed in 1948, a gyrator is a type of electronic network that can be used at the heart of equaliser designs as an alternative to its even older inductor predecessor. Although inductors are still popular with some designers looking for a vintage sound, they have inherent issues like ringing and odd harmonics. 
On the other hand, gyrators can work better than the 'real thing' and give the designer more freedom, a factor put to work in the VSE-2 to create, among other things, a tube-like distortion spectrum.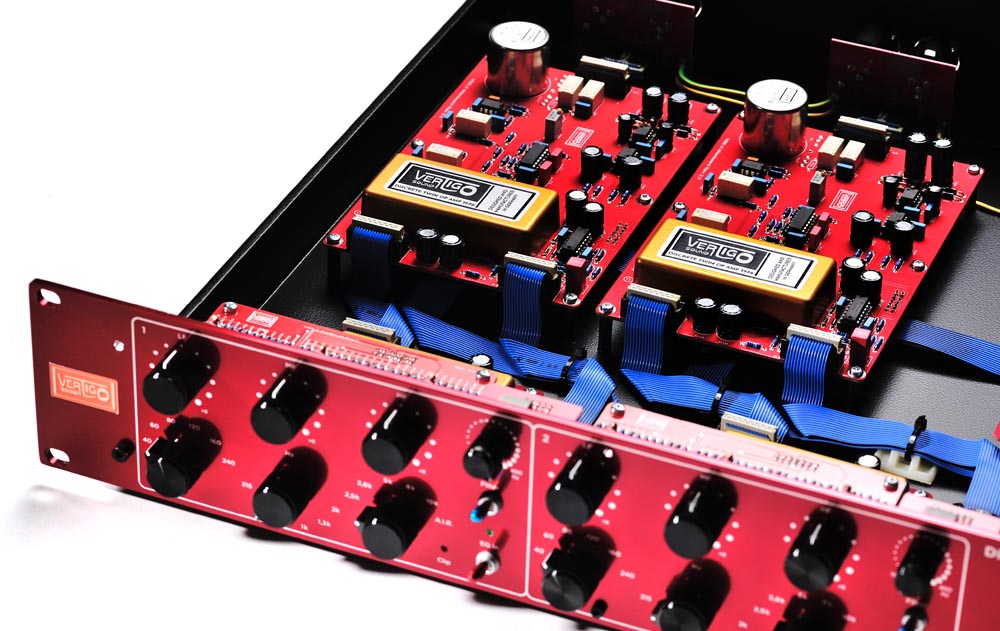 The Vertigo Sound "Discrete Triple Gyrator 1972" uses a fully discrete circuitry, while other devices on the market realize the Gyrator using an standard IC. The well thought out design of Vertigo's Gyrator delivers a tube unit like distortion spectrum. The distortion is produced by the Gyrator itself at the frequency you dial in.
DISTORTION AND
EQUALISATION
MIXING WITH THE ORACLE SUMMING
Inside the Studio with Greg Wurth
In this episode I recalled a mix I did for Boom Boom Boom called "Dream of Life" running The Oracle Summing Mixer with the Vertigo Sound VSE-2 EQ on the stereo buss insert. I explain a bit about the Oracle's functions as well is how the VSE-2
sounds in action.