VSE-2 PLUGIN
THE METICULOUS EMULATION OF OUR
DISCRETE GYRATOR EQ VSE-2

Now New!
Features of the VSE-2 Plugin:
A Painstaking Hardware Emulation With Discrete Sound
Maximum Musical Behavior
Extreme Eqing without penalties
Add silky presence and a big defined low end heft to your material instantly!
Enhancement of the auditory threshold with our unique A.I.R. Mode
What's New - Features that can be found in the VSE-2 Plugin Version only
VSE-2 Plugin Only
Frequency bands can be switched indepently to "Broad" (Low Q)
Additional Input and Output Trims to Avoid Internal Clipping Issues in your DAW.
All levels can be set directly at the VSE-2 EQ stage.
Harmonic Control with Drive LED
What is a GYRATOR?
Originally proposed in 1948, a gyrator is a type of electronic network that can be used at the heart of equaliser designs as an alternative to its even older inductor predecessor. Although inductors are still popular with some designers looking for a vintage sound, they have inherent issues like ringing and odd harmonics. On the other hand, gyrators can work better than the 'real thing' and give the designer more freedom, a factor put to work in the VSE-2 to create, among other things, a tube-like distortion spectrum.
VSE-2Unique Features
Discrete Gyrator EQ based Hardware emulation
Tube like Distortion Spectrum up to 1% THD
Smooth and Punchy Vintage Console EQ Sound
Unique A.I.R Mode (Enhancement of the auditory threshold)
18 selectable frequencies
Hi Pass Filter 10Hz-400Hz
Cut & Boost steps +-: 1dB, 2dB, 3,5dB, 5,5dB, 8dB with proportional Q
VSE-2 PLUGIN Technical Specifications

AVAILABLE FOR:
macOS: VST2, VST3 32 Bit & 64 BIt, AAX DSP 64 Bit, AAX NATIVE 64 Bit, AU (V2)
WINDOWS: VST2, VST3 32 Bit & 64 Bit, AAX DSP 64 Bit, AAX NATIVE 64 Bit
MINIMUM SYSTEM REQUIREMENTS:
SUPPORTED OPERATING SYSTEMS
macOS 10.9 THROUGH 12.X
WINDOWS 10

PRO TOOLS 10.3.10 OR HIGHER OR ANY VST/VST3/AU-COMPATIBLE
HOST RUNNING ON A SUPPORTED OPERATING SYSTEM
macOS
INTEL/M1 ARM CPU (MINIMUM 2 GHZ RECOMMENDED)
WINDOWS
INTEL-COMPATIBLE CPU WITH SSE2 INSTRUCTION SET (PENTIUM 4 COMPATIBLE OR HIGHER; MINIMUM 2 GHZ RECOMMENDED)
SYSTEM REQUIREMENTS:
DISPLAY RESOLUTION: 1440 × 900px OR 1280 ×960px OR HIGHER
MEMORY: 2 GB RAM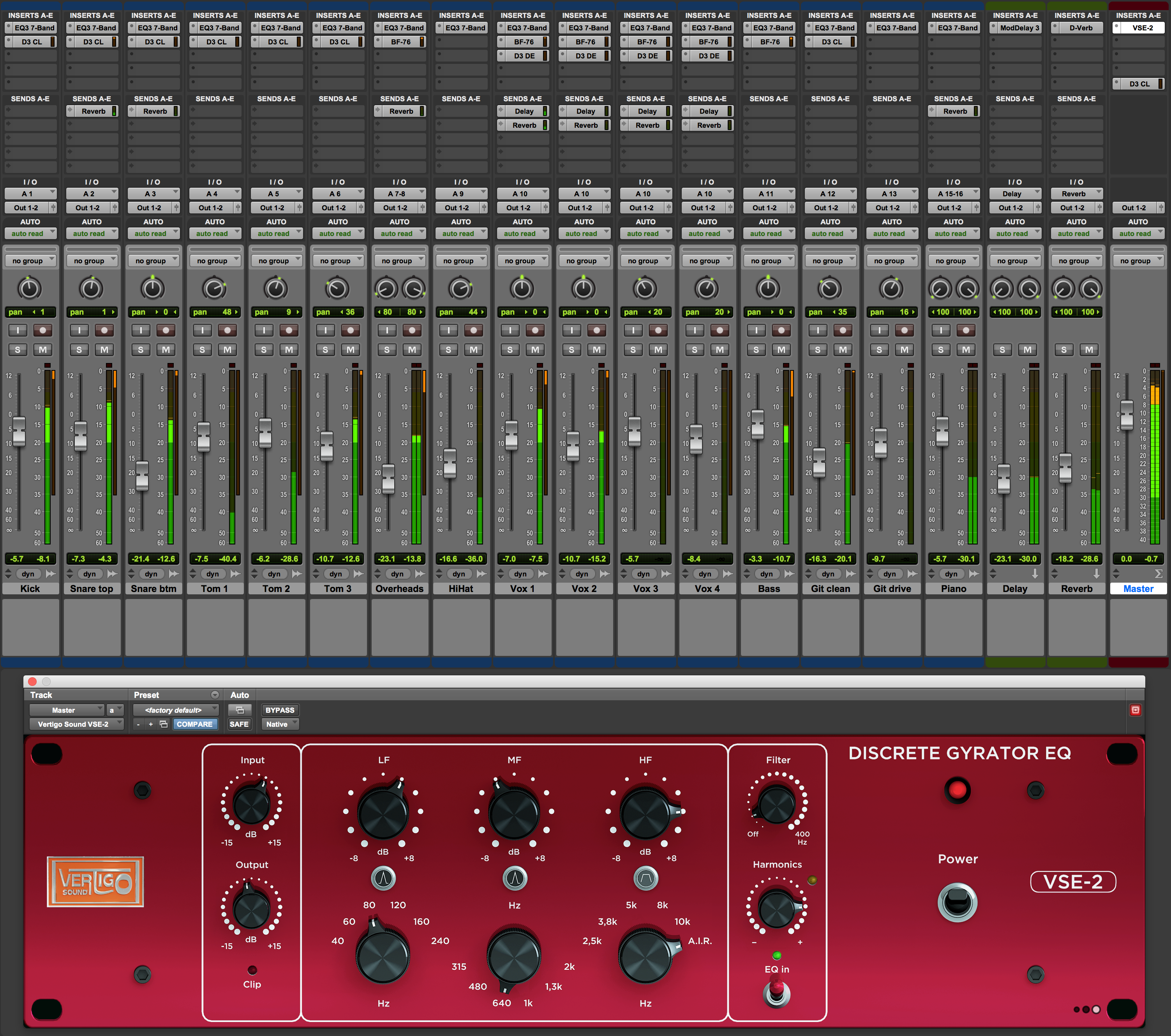 Vertigo Sound VSE-2 Plug-in
The VSE-2 is the first independent Plug-in release by Vertigo Sound.
The VSE-2 software provides all the fine sonic details of it`s 6500$ analog counterpart plus some new additional options like switchable bandwith and control of the harmonic content.
Available for macOS and Windows
VST2, VST3, 32 Bit & 64 Bit, AAX DSP, AAX Native,
macOS only: AU(V2)
229 Euro
Now! Bundle Price 99,00 Euro, if you buy two or more Plugins. Go to Shopping Cart and check your displayed bundle or upgrade discount.
229.00 €
Including 19% VAT
Available
Product added
Product Includes
Plugin Installer
Manual
Licence-Manager
Requirements
Windows: VST2, VST3 32 Bit & 64 Bit, AAX DSP 64 Bit, AAX Native 64 Bit

macOS: VST2, VST3 32 Bit & 64 Bit, AAX DSP 64 Bit, AAX Native 64 Bit, AU (V2)
Supported Operating Systems
macOS

10.9 through 12.X
Windows 10